"Adventure is inconvenience properly perceived." — Llewellyn Thomas
"Places to go, things to do, Porsches to pass..." — 350Z showroom banner
"Think of it as a high-performance park bench with a mechanical beauty far exceeding any external good looks." — the author
On this page, in no particular order...
Last revised on 06/04/2005 at 21 months and 15,400 miles from purchase.
---
Here you'll find the odd tips and tricks that didn't quite fit in the more extensive Misses and Fixes section on the Hits, Misses and Fixes page. Below is a link table to the tips and tricks covered there.
If you still can't find what you're looking for, try the keyword search page.
---
Gearing, 6MT roadster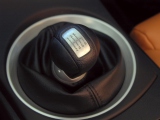 6MT shift pattern
When the roadster took on 240 lbs. of additional chassis stiffening to compensate for the lack of metal on top, Nissan engineers lowered the gearing a bit to keep its quickness on par with that of the couple. Here's the approximate end result:
Empirical Gearing Chart, 2004 350Z Roadster 6MT*
Gear
Observed rpm/mph
Calculated travel speeds
3,000
4,000
5,000
6,000
6,600
1st
190.5
16
21
26
32
35
2nd
111.1
27
36
45
54
59
3rd
78.9
38
51
63
76
84
4th
58.1
52
69
86
103
114
5th
46.5
65
86
108
129
142
6th
33.3
90
120
150
180
198
* Note: The slightly heavier roadster's geared slightly lower than the coupe.
---
Look Ma, no right foot!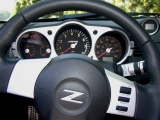 Drive-by-wire hand controls
Like Dr. Strangelove's barely repressible black-gloved left hand, my accelerator foot has always had a mind of its own—often at the most inopportune times. On a hot tip from Beaker of the 350ZMotoring.com Forums, I've been using the cruise control to take that pesky right foot out of the equation in school zones, behind slow pokes I can't get around, and in the presence of the law, among other situations. I find it a great stress relief, and the 350Z's drive-by-wire electronic throttle control technology makes it every bit as smooth, stable and responsive as the gas pedal. Each up or down flick of the Accel/Res—Set/Coast lever (in the photo above, the top control on the right steering wheel spoke) precisely adjusts your speed in 1 mph increments. You can monitor your speed with similar accuracy via the driving computer.
---
Top 10 reasons to pick up a 350Z roadster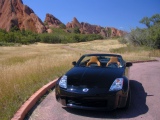 What more reason do you need?
Need some talking points to convince yourself? Well, look no further.
| | |
| --- | --- |
| 10 | You never manage to get up in time to dry your hair before flying out the door. |
| 9 | You take a certain delight in longing looks from complete strangers. |
| 8 | Your Saint Bernard needs a bigger opening to get his face into the air stream. |
| 7 | Come to think of it, you could use a little wind in the face yourself. |
| 6 | You woke up with a burning need to find new meaning in daily driving. |
| 5 | Your inner ear can't get enough lateral Gs. |
| 4 | Your partner pre-approved the purchase by once saying in passing, "Gee, those new Z convertibles are kind of sexy, aren't they?" |
| 3 | Your other car can actually move in snow. |
| 2 | You have a heart with the word "Torque" tattooed on your right forearm. |
| 1 | And now, ladies and gentlemen... |
| | |
Are we out of excuses yet?
---